Bulldog Puppy Training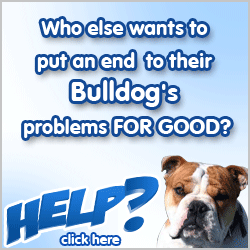 Bulldogs are one of the really old and elite purebred dog breeds in modern society. A symbol of England since the 1500s, Bulldogs are courageous, stoic and bullheaded (excuse the pun). As a result, Bulldog puppy training can sometimes be a challenge if your puppy is especially obstinate or adventurous in your house.

Selecting Your Puppy
Before you select your Bulldog puppy, bear in mind just how much goes into this breed of dog. Bulldogs are susceptible to several health issues, starting from birth with their high fatality rate. Select a puppy that is no less than eight weeks old, friendly, and not aggressive. Have your vet examine your pup to make certain she is in excellent health, since there are a variety of puppyhood health issues that a bulldog might have (particularly with their noses and ears).
Click Here to Solve All of Your
Stubborn Bulldog's Training Problems
Bulldog puppy training ought to start once you bring your puppy home, but only if the dog is old enough and has already been appropriately socialized. If your puppy is not yet 10 weeks old or if she has not yet been adequately socialized with people as well as other dogs, be sure you do this right away in order to avoid the onset of any excessive aggression problems.
Bulldog Puppy Training
As soon as your puppy is old enough, begin basic housetraining. Bulldogs can be exceptionally stubborn at an early age; for that reason it is strongly recommended that you use crate training and are also home as much as possible throughout the house breaking training. It will take somewhat longer than usual to complete the housebreaking process, however once Bulldogs are trained, they are very careful not to violate their home.
Once you have established the basics, you'll need to create an environment in which you're the clear and obvious alpha pack leader. Teach your Bulldog puppy not to bite or nip using toys along with a clear whining sound to indicate that it hurts. Don't let your puppy jump on the sofa and never allow her to sleep in your bed. The crate ought to be used whenever possible during these early months as you extend the length of time the puppy can remain inside.
Bulldog puppy training should proceed into the obedience phase between three and six months focusing on basic commands such as lying down, sitting, staying, concentrating on you, coming when called, waiting inside doors and not pulling on the leash.
You will discover that your Bulldog is extremely skilled at picking up on these cues, yet in the beginning might not wish to follow your lead because of her strong personality.
Using Bulldog Puppy Training to Safeguard Your Dog
Due to their natural curiosity and courageous nature, a bulldog will try to discover as much as possible. Train them early on not to run after automobiles, to stop at the curb and to ensure they do not run away from you in public places. Never ever take your Bulldog off her leash until you can be certain she will come back when called and not run very far from you. The risks are greater with Bulldogs than with many other small dog breeds.
Appropriate Bulldog puppy training might seem somewhat harder than usual when you first get your new little buddy, however you will eventually discover that a Bulldog is one of the most faithful, attentive dogs you could possibly own. They will stubbornly remain by your side, comply with your instructions and stay clean in the house. However, this is only when you lay down the law early and make certain they follow your instructions later on.
Click Here for the Best Dog Training Guide for Your Bulldog
---
Do You Want to Keep Your Bulldog
as Healthy as Possible?


If you answered "Yes" to this question, I strongly recommend that you check out the best selling guide, Bulldog Health System.
This comprehensive and easily understood course will put an end to your Bulldog's obedience problems FAST!
Click here to check it out now!
---